WE DISRUPT EDUCATION.
With Inspiration, Exploration, + Action
Bring your ideas. Your energy. Your personality. And your humor. Come ready for cross-collaboration and industry disruption. Get ready to think analytically - but also to get your hands dirty. We have the physical tools you need to build what you want. We also have the knowledge and resources to help you connect and learn what it is you don't know yet.
"Our vision for Siebel Center for Design is that it be deeply and truly transformational–accelerating unimaginable and breakthrough ideation and innovation at the intersection of science, engineering, fine arts, humanities, and the performing arts."
Thomas Siebel
Benefactor
University of Illinois Urbana-Champaign alumnus
(BA–History; MBA & MS–Computer Science)
By inviting all members of the campus community and community-at-large to our building on South Campus - and by getting to know every college, school, institute, and department really well - SCD will continue to a) create optimum conditions for interdisciplinary collaboration and b) learn alongside our campus, community, and the collective world how to best use human-centered design to solve problems, using creativity and empathy.
Our Mission:
To practice, model, and teach design thinking, using human-centered design, in collaboration with others, to reimagine our campus, community, and collective world.
What is human-centered design? Human-centered design (HCD) is a problem-solving approach that uses design thinking to identify the unmet needs of a population in order to collaboratively and iteratively develop solutions. We believe that HCD is a flexible approach that allows anyone to solve problems in creative and innovative ways, using processes such as empathizing with people, brainstorming ideas, and prototyping solutions.
HCD relies on a "double arrow" to integrate research and practice. Human-centered design practice should be evidence-based, taking advantage of rigorous research. In all of our work, we want everyone's strengths and insights to flow in both directions. Both research outcomes and practical design success drive us, inform our work, and create good outcomes in the world.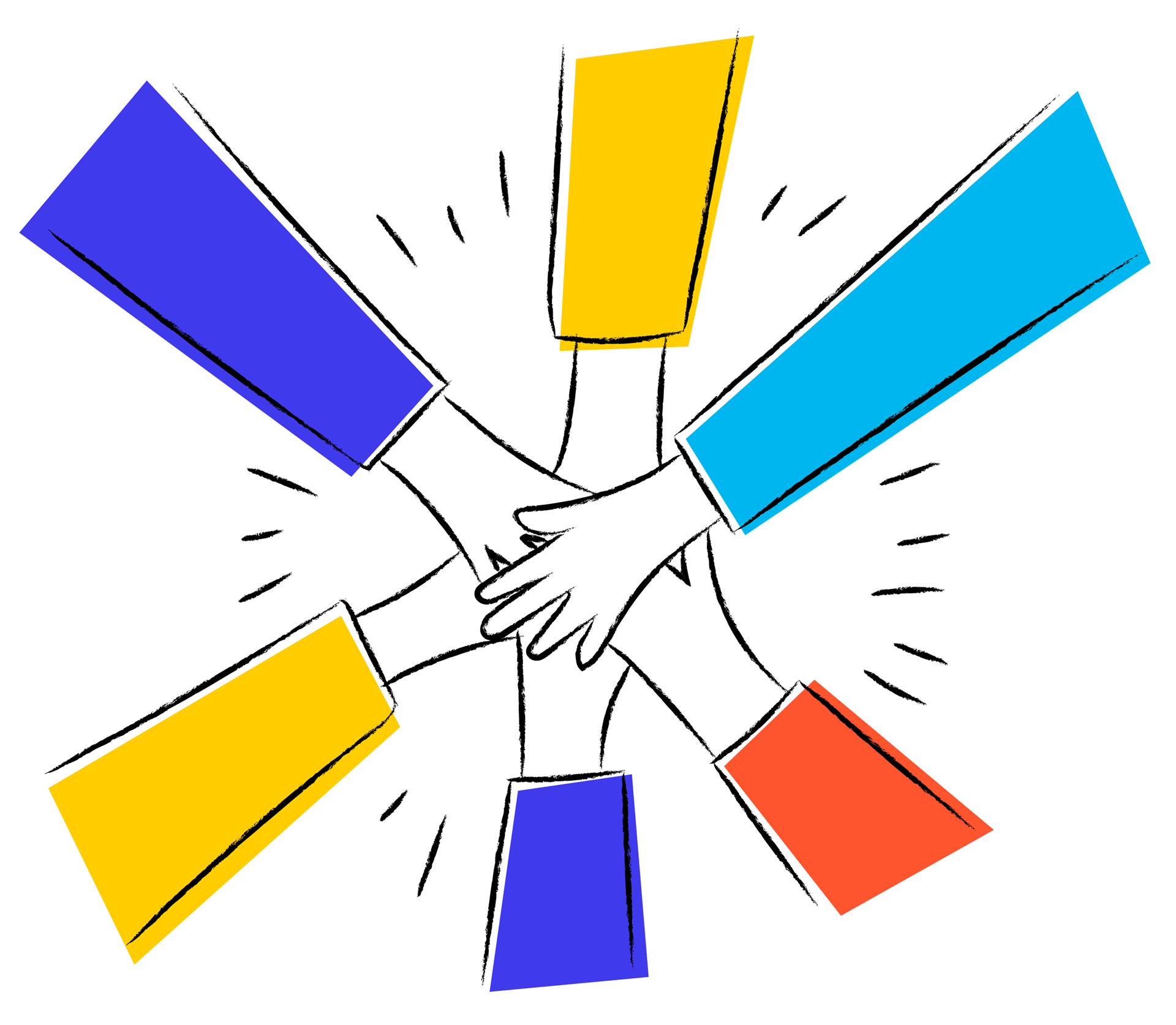 We work closely with educators, researchers, and students to share how human-centered design can be applied to any challenge and field. Our team is focused on evidence-based assessment of when HCD works, why it works, and how to improve it, and are building frameworks and tools that share those insights and best practices with everyone.
At SCD, when we "do" design, we're all in it together.
Through barrier reduction, cross-collaboration, and flexibility, we disrupt education in order to find novel, comprehensive solutions to all types of problems in all types of communities. This is done by:
Practicing, modeling, and teaching design thinking
Lowering barriers for students, faculty, and partners at the University of Illinois Urbana-Champaign to get design thinking into every college and field of study.
Researching human-centered design and how it can improve all fields of study.
Putting on workshops to introduce students, faculty, and partners to human-centered design and how they can start implementing it in their lives.
Providing resources, training, and actual tools for exploring, experimenting, building, and fabricating solutions you imagine that can address the challenges of our time.
Siebel Center for Design is open to anyone interested in human-centered design. The heart of SCD is students, faculty, and partners joining forces to innovate and implement solutions for problems – from small to large – affecting the world we live in today.
We seek collaborators from ANY AND ALL majors and disciplines on our campus, the University of Illinois system, and beyond.
You are welcome here:
University of Illinois system students & faculty
Corporations and businesses
Peer institutions
Part of our mission is to welcome you at your level.
Are you a complete beginner to design?
Have you created products and are now ready to research design-thinking or offer workshops?
Are you ready to expand your knowledge of production tools?
In our Shop, we provide a variety of large tools, some of which you may be familiar with, and others you're ready to be trained to use:
3D Printers

Sewing Machines

Electronics and soldering Stations

Woodworking tools

Waterjet Cutter
You'll find professionals ready to help you
Know exactly where to start

Train you on the tools you need (and are ready to use)

Check out the resources needed for your project
Everyone can participate in human-centered design.
We are unique in human-centered design because we focus on the work at three levels: (1) advancing knowledge in the field through research, (2) turning that research into practical projects, and (3) offering resources via physical tools and evergreen handouts, videos, etc.
Lowering barriers in relation to design knowledge or major of study will expand the circle of communities served.
Cross-collaboration results in entirely new ideas that benefit a greater population in more helpful ways.
Being flexible and open-minded enables a more comfortable atmosphere for engagement and creates space for increased idea generation.

Pre-conceived notions should be left at the door.

We're big believers in serendipity. Design is everywhere, in every discipline - and things can get really interesting when people from different countries, majors, histories, realities, and interests work side by side in open environments where collaboration is the rule, not the exception.
Working in a beautiful space created for transparency and movement can facilitate brainstorming and partnerships.
Learning and implementing through human-centered design should be fun.
You should join us to see what you can create.
Our Space
Our stunning floor-to-ceiling windows, wide-open collaboration spaces, and both analog and digital maker spaces invite ideation, iteration, and prototyping under one awe-inspiring roof.


Be part of the SCD Team
From student positions to full-time gigs, we post all openings on our Jobs page.


SCD Workshops, Boot Camps, and Events