Human-centered design is a problem-solving approach with NO PRECONCEIVED NOTIONS
This doesn't work with research alone. We solve problems by breaking things down and then putting them back together in new and exciting ways.
The Human-Centered Design problem-solving approach is addressed in three interconnected tiers. We are defining the pedagogy of design thinking within higher education.
It's what we stake a claim on. It's what makes us stand out.
It's a method that is propelling human-centered design.
We have established three tiers of our work based on research and practice working hand-in-hand:
Research Studies
Programs
Resources
Working together to impact others.
Our scholars collaborate with learning science experts to evaluate and track our progress and impact on campus. It's based on the following principles:
Conduct design-based research projects both inside and outside the classroom

Develop faculty networks at UIUC and with peers at other institutions.

Tell the stories behind the new knowledge gained through this research.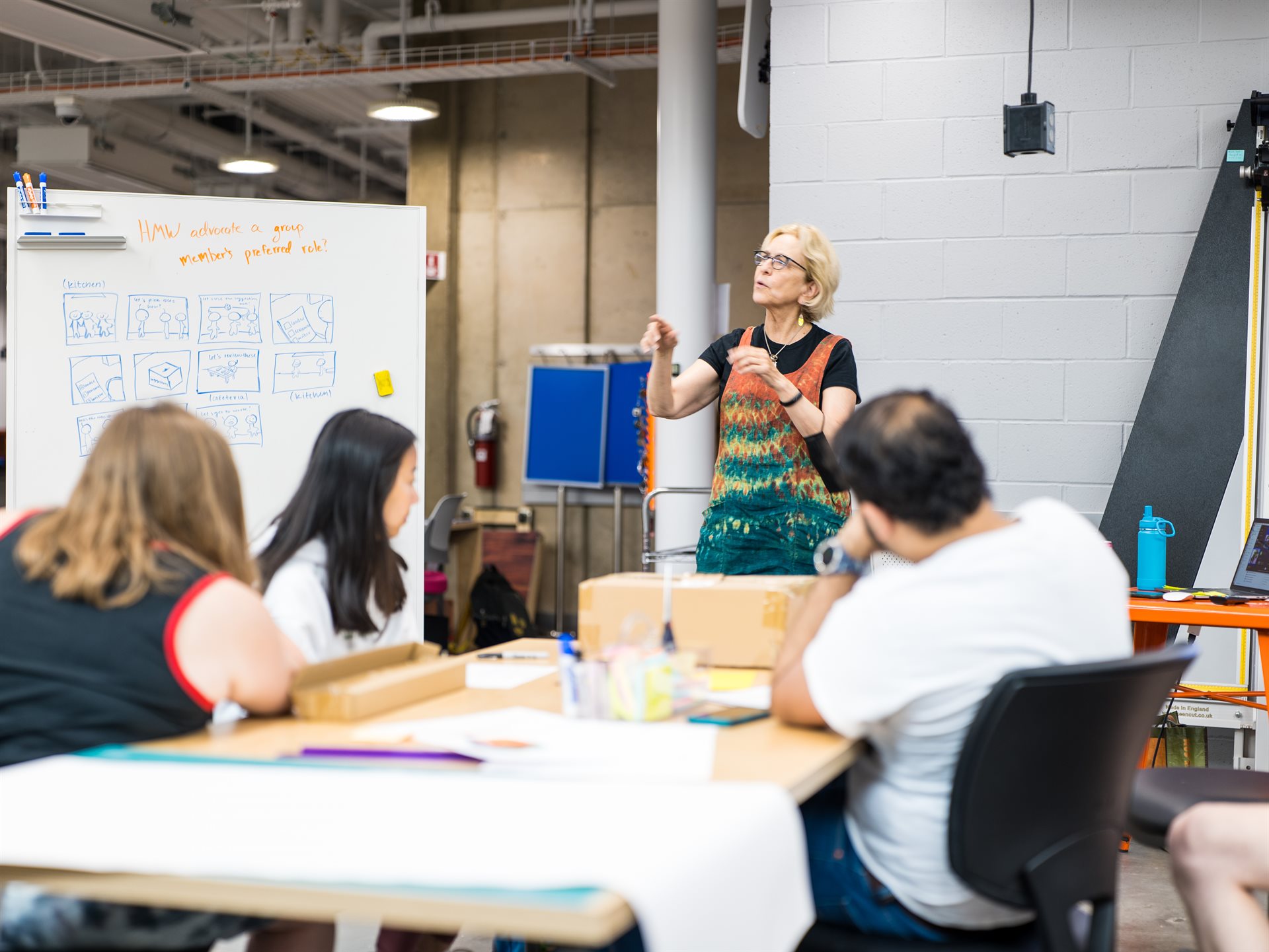 Here's a basic example of how this works:
What's the PROBLEM? Human-centered design sounds too complex and hard to apply.
Must have a RESEARCH TEAM to Review literature. Conduct Interviews. Survey variety of subjects. Track responses.
Now apply through a PRACTICAL PROJECT. Share what HCD is inside classrooms. But how? Turned research into a practical application of HCD Taxonomy which is broken down into 20 processes and six mindsets that can inform courses, workshops, and resources.
Share RESOURCES for others. From the Practical Project, three resources emerged – (1) Definition of HCD; (2) HCD Taxonomy; (3) Six Mindsets
HCD+ : The 6 Areas of HCD Work
Our job is to advance knowledge in teaching and learning human-centered design. We do this by developing evidence-based curricula, activities, and instructional tools that engage learners in human-centered design.
Why and how? Our approach to problem-solving is through the lens of academia. We believe collecting data, analyzing it, and applying findings can provide solutions to the challenges of our time.
Our goal is to organize work into ways that make sense, that are applicable, and (what makes us unique) provide resources for ways to translate our research into your work.
Support the Future of Higher Education
As one of the first ground-up, interdisciplinary design centers in the country, SCD empowers students by fostering collaboration, teaching creative problem-solving skills, and encouraging imagination through design thinking and human-centered design. We're building a place where creativity, collaboration, and innovation are core parts of every student's education, and where the University of Illinois sets the bar for design education at a global scale. But we can't get there without your support.
Your Gift Matters
Financial support helps SCD transform education and the student experience at the University of Illinois. Be one of the first to give in support of SCD's charge to build upon Illinois' storied culture of innovation - and help changing the world's ideas about what a land-grant university can be in the 21st century in the process.
Gifts to our annual fund provide unrestricted support for Siebel Center for Design's programs and day-to-day operations. Your gift, regardless of size, is vital to our growth as we prepare students to change the world.
Want to explore other ways to support Siebel Center for Design? Contact our team at designcenter@illinois.edu or by phone at 217-300-9100.. We'd love to help you identify where your gift will be of greatest impact.
Corporate Engagement Opportunities
To learn more about corporate engagement opportunities, including executive education, partnership projects, and sponsorship, contact our team at designcenter@illinois.edu.
Matching Gifts
Many employers offer to match your gift in order to double - or even triple - your impact. For more information, visit the University of Illinois Foundation's matching gifts page.
If you're interested in alternative giving opportunities - special project gifts, endowed giving, gifts of security, property, cryptocurrency, or a deferred gift - please contact our team at designcenter@illinois.edu.