Learn with us!
SCD offers several ways to learn about human-centered design (HCD), whether you are looking for a full course on Design Thinking, self-guided learning materials, or just want to explore the mindsets of HCD through one of our workshops. Our courses and workshops are open to everyone on campus, so we invite you to discover more about how SCD can help you learn HCD and Design Thinking.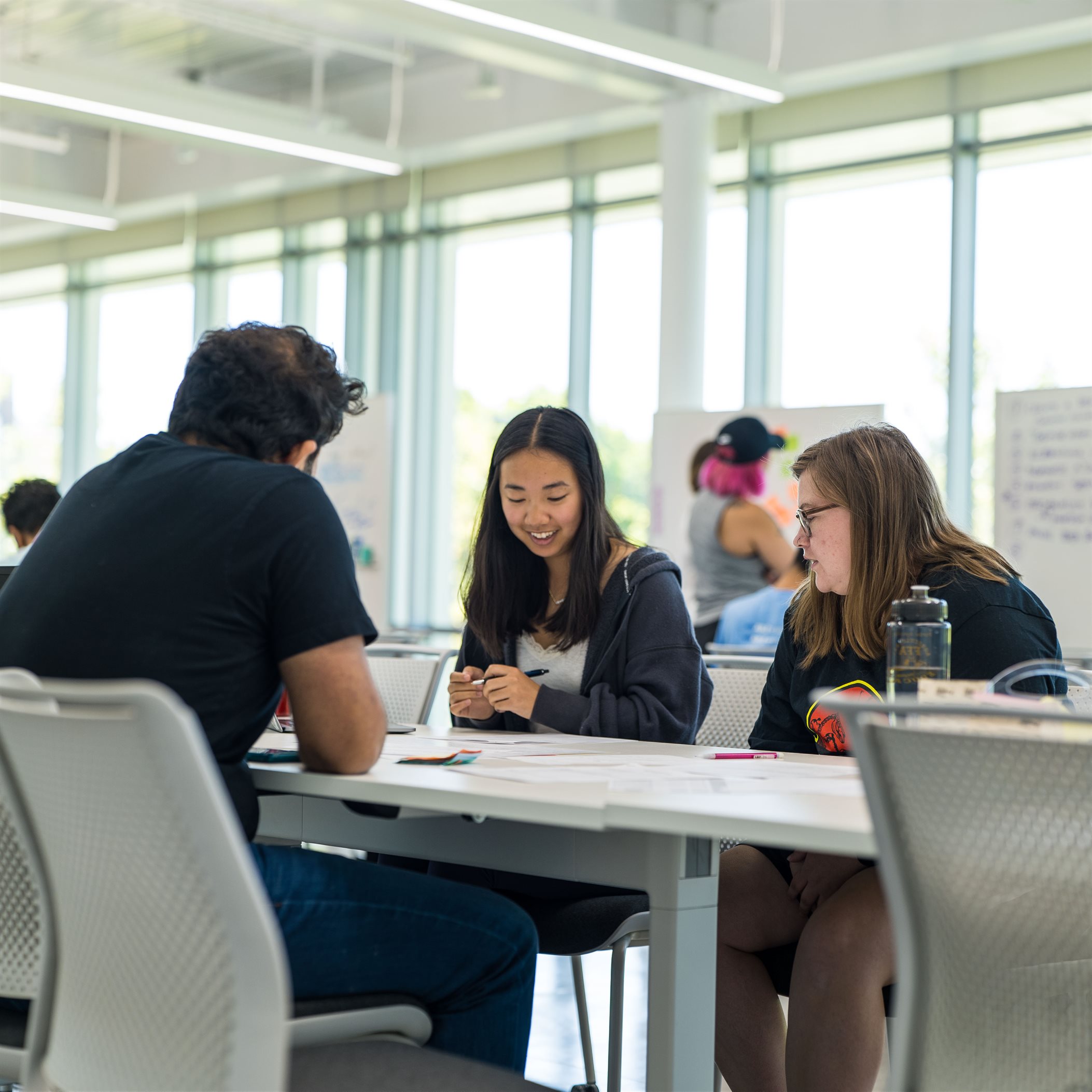 Fall Courses
Learn and practice design thinking and human-centered design with us this fall!
DTX 210 - Introduction to Social Design
Social design supports and empowers culture by looking at design through the lens of the community as a whole. The overarching goal of social design is to create outcomes that inspire cultural engagement and improve creativity, equity, social justice, and public health. This course provides an introduction to the fundamentals of social design, where students will collaborate on projects across the semester to learn how to bring the course materials together to real-life applications.
DTX 251 - Introduction to Design Thinking
Provides a hands-on introduction to the fundamentals of Design Thinking and Human-Centered Design. Students review, analyze, and reflect on completed design challenges employing the human-centered design (HCD) approach. Students experience HCD while working collaboratively on a semester-long project. Students learn methods to perform initial research, project scoping, conduct interviews, create journey maps and wireframes, brainstorm and propose ideas, and plan for prototyping. Students also learn to implement and develop storytelling and critiquing skills.
DTX 455 - Design for Social Impact
An immersive exploration of design thinking as a method for tackling social needs and issues. Social innovation seeks to impact transformational change in underserved, underrepresented, and disadvantaged local and international communities by addressing problems too complex to be solved by traditional methods. Students in this course will work in collaborative teams to employ the human-centered design process to discover and develop innovative solutions for social problems such as poverty, homelessness, hunger, and violence.
Fall Workshops & Boot Camps
SCD will be hosting a variety of workshops for members of the UIUC community this fall!
Human-Centered Design is a creative problem-solving approach, using design thinking tools to identify the unmet needs of a population in order to collaboratively and iteratively develop relevant and innovative solutions. Siebel Center for Design (SCD) at the University of Illinois at Urbana-Champaign will be offering a series of workshops designed to help instructors learn about human-centered design and leverage the tools and processes of design thinking in teaching and research.

This set of workshops will be offered sequentially every other Thursday afternoon, 12:30-1:30, during the Fall and Spring semesters. They will be held remotely to enhance accessibility and attendance.
SCD's Lunchtime Learner Workshops engage learners in activities and experience practices associated with the six mindsets around human-centered design: the Human-Centered mindset, the Collaborative mindset, the Communicative mindset, the Creative mindset, the Experimental mindset and the Metacognitive mindset. These standalone sessions are open to University of Illinois students, faculty, and staff interested in learning more about human-centered design and its mindsets. Attend in-person at SCD's Starlight Cafe (where light refreshments will be served) or via Zoom!
SCD's Design Thinking Boot Camps serve as practical explorations of each of the five spaces of human-centered design: Understand, Synthesize, Ideate, Prototype, and Implement. After an introduction of the day's topic, Boot Camp participants will work in small groups to apply newly learned skills and concepts to real-world problems. These standalone, in-person events are perfect for groups who want to apply an aspect of human-centered design to a current project, as well as for those who want to explore human-centered design in an experiential way. Open to University of Illinois students, RSOs, groups, faculty, and staff, these events will take place in SCD's Starlight Cafe.