Visit our online system to book ahead of time!
(please make requests at least 48 hours in advance)
Collaboration by Design
SCD's 68,000 square feet of space is designed to invite, invigorate, and inspire its visitors, whether they be students, faculty, staff, or members of our community. Wide open spaces, plentiful windows, and comfortable, movable furniture maximize the potential for collaboration indoors, while tree-lined sidewalks and green spaces wrap around our three unique terraces outdoors. Put them together, and the result is a breathtaking campus presence embodying endless potential. We can't wait to see what you do with the place!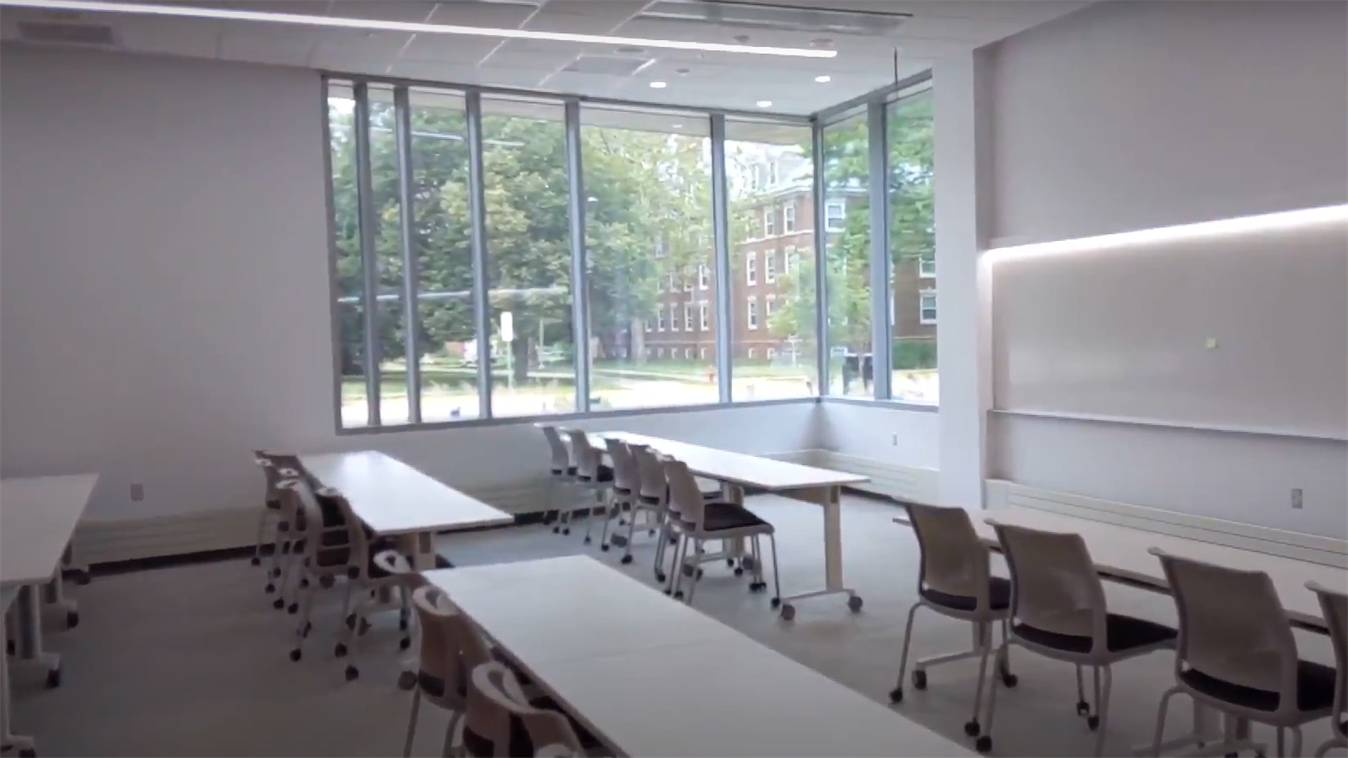 Classrooms 1000 & 1002
This larger, multipurpose classroom can be subdivided into two separate classrooms, each with their own audio/visual equipment, lecture capture capability, and more.
Gallery
The gallery area at SCD is literally the center of the Center, offering comfortable seating and plenty of space to stretch out. Things you can do here: Clear your head between meetings or classes, chat with a friend or colleague, study for that exam, or... talk with someone from our team about getting started on your creative journey, perhaps?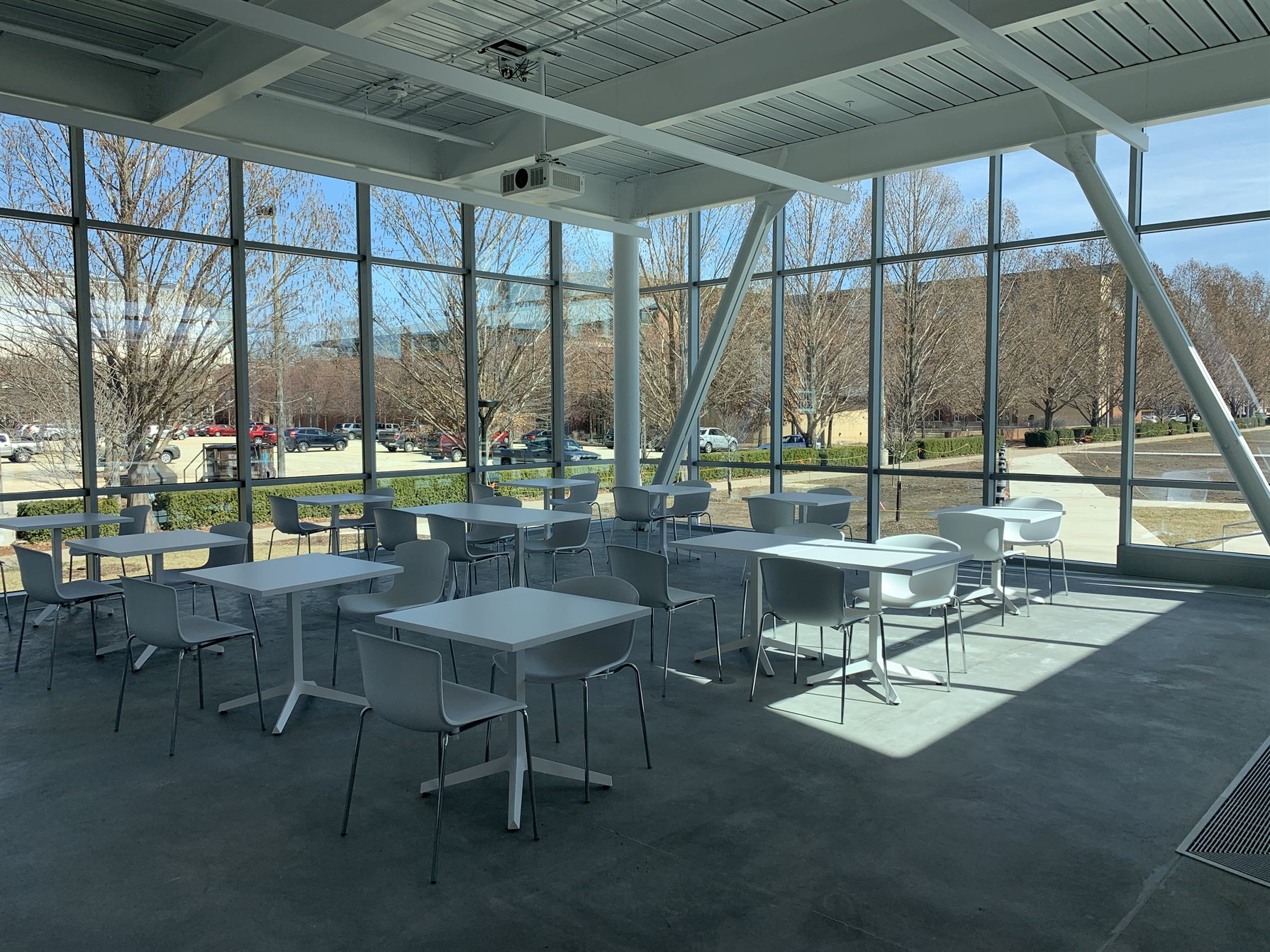 Starlight
SCD's Starlight is a stunning room on the northeast side of our upper level that's almost one hundred percent windows. Visitors enjoy a view comprising our largest terrace, several of our campus neighbors, and what we like to call the "creative quad" to the east. Starlight's tables and chairs can be arranged in a traditional café style, but this area also offers a media projector, screen, and blackout curtains to accommodate speakers, presentations, workshops, and more. Just want to enjoy your morning coffee in a beautiful setting? You can do that here, too.
Upper Lobby
SCD's upper lobby is adjacent to Starlight Café, and offers several seating and gathering options. The tall tables and chairs are easily moved together to accommodate larger groups and users have easy access to electrical outlets and USB ports, but if it's just you and a friend (or just you!), we recommend the comfortable high-back chairs situated in front of some spectacular east-facing floor-to-ceiling windows.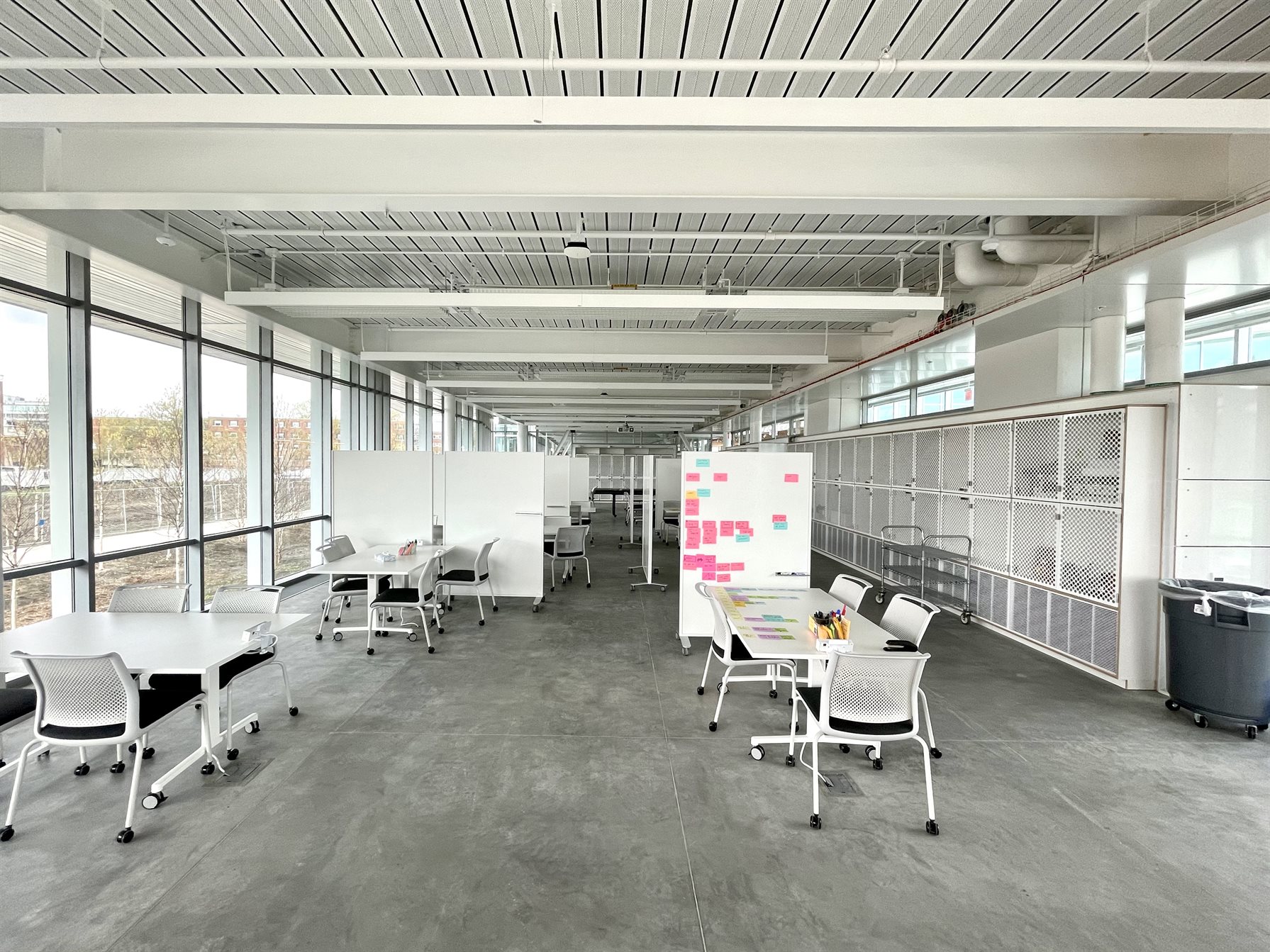 Sunset Studio (1050)
Located on the upper level, the Sunset Studio is available for faculty and classes to use for course instruction, small group meetings, and other collaborative endeavors.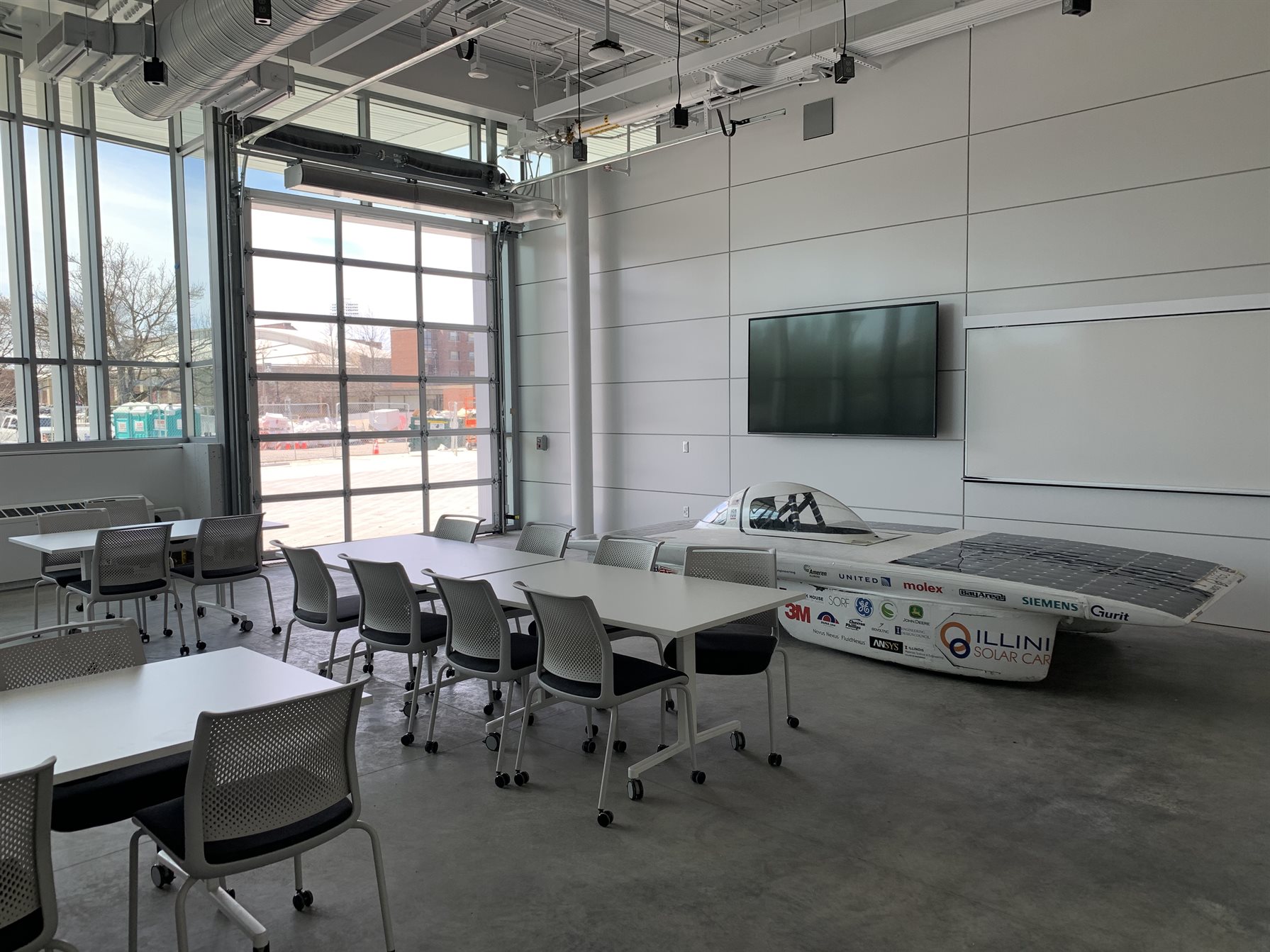 Garage Space
The "garage", SCD's small-but-spacious garage-style collaboration area, is designed to meet the needs of student organizations building big things - like Illini Solar Car's latest vehicle, Brizo. Bonus: The garage door opens out onto the Center's south plaza, just across the way from our friends at Art + Design.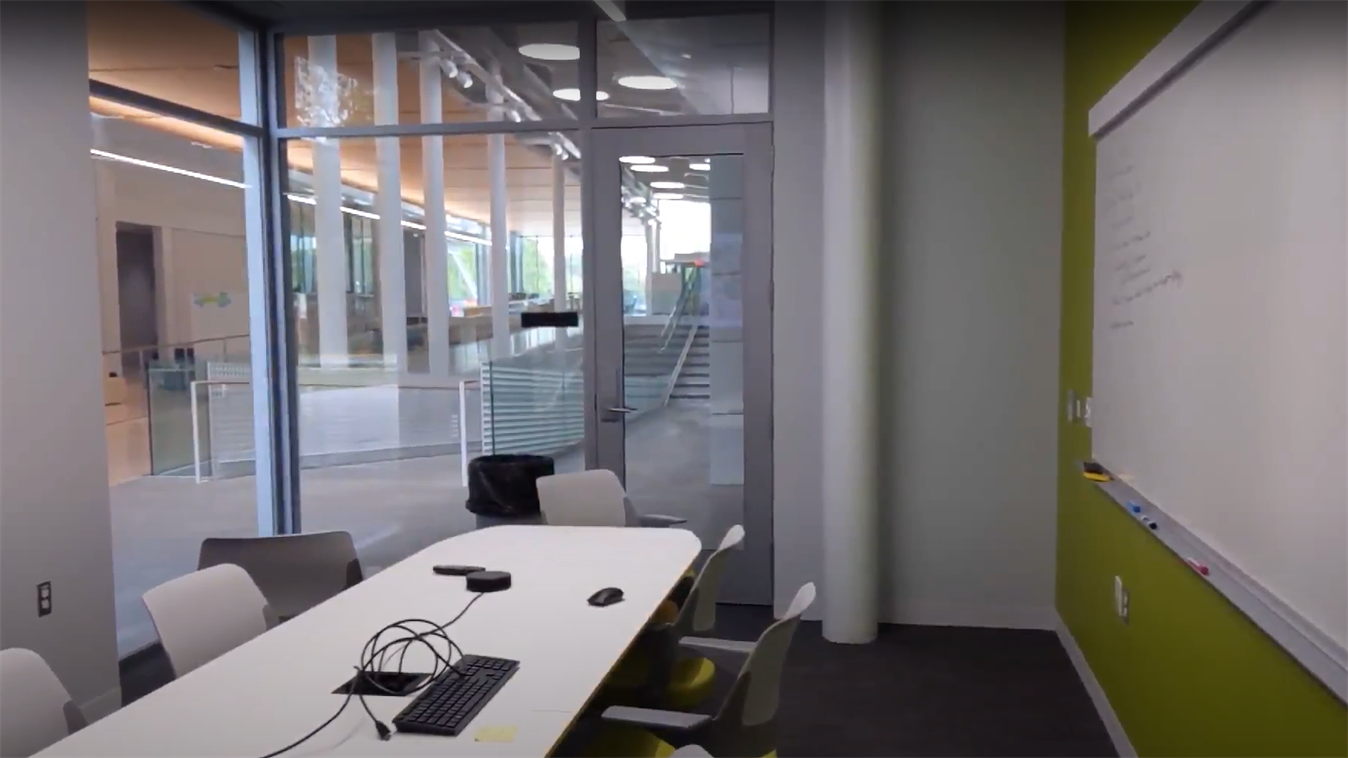 Meeting Room 1070
This full-service conference room is perfect for in-person or hybrid meetings.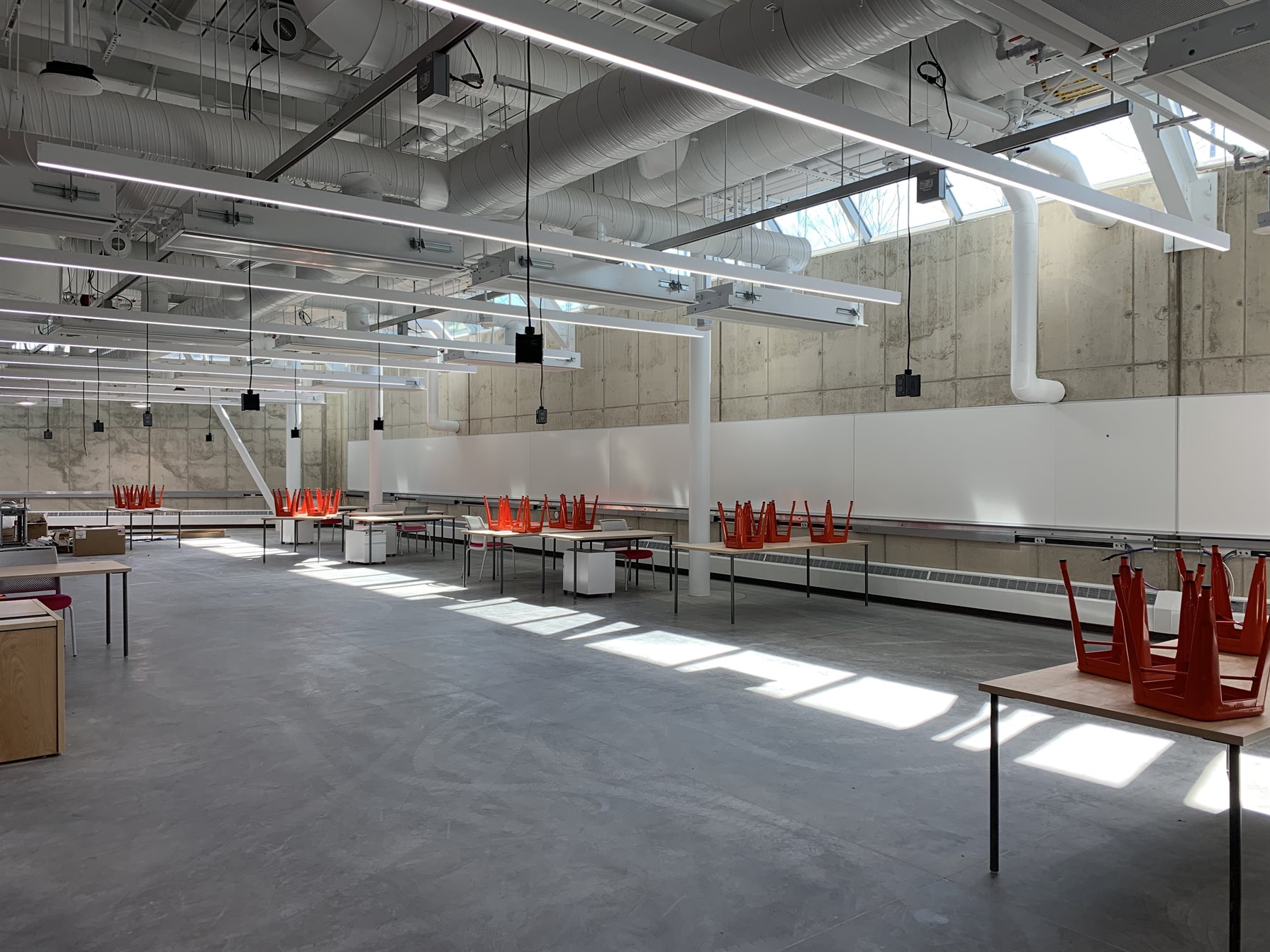 The Shop
SCD's Shop, located on our lower level, has two areas - a maker space that includes 3D printers, laser cutters, sewing machines, a large-format printer, and more, and a production shop offering heavy-duty power tools, a CNC router, a water jet cutter, and more. Ready to make something? Get started here.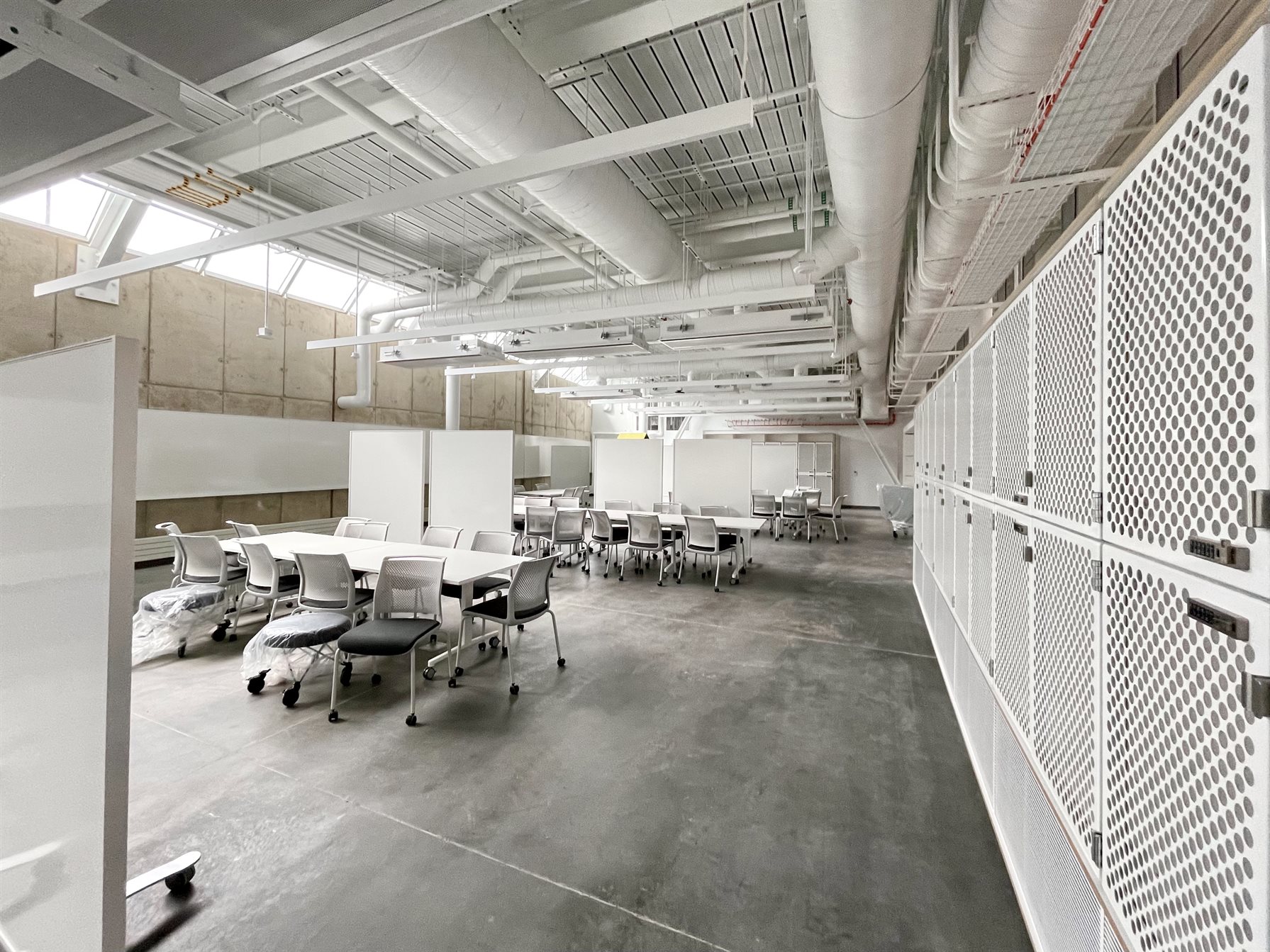 Twilight Studio
The collaboration studio on SCD's lower level is available to students and campus organizations for use as project and study space, maximizing interaction between groups and students from all majors.
Classroom 60
Located on the lower level, this smaller classroom features full lecture capture and media capability.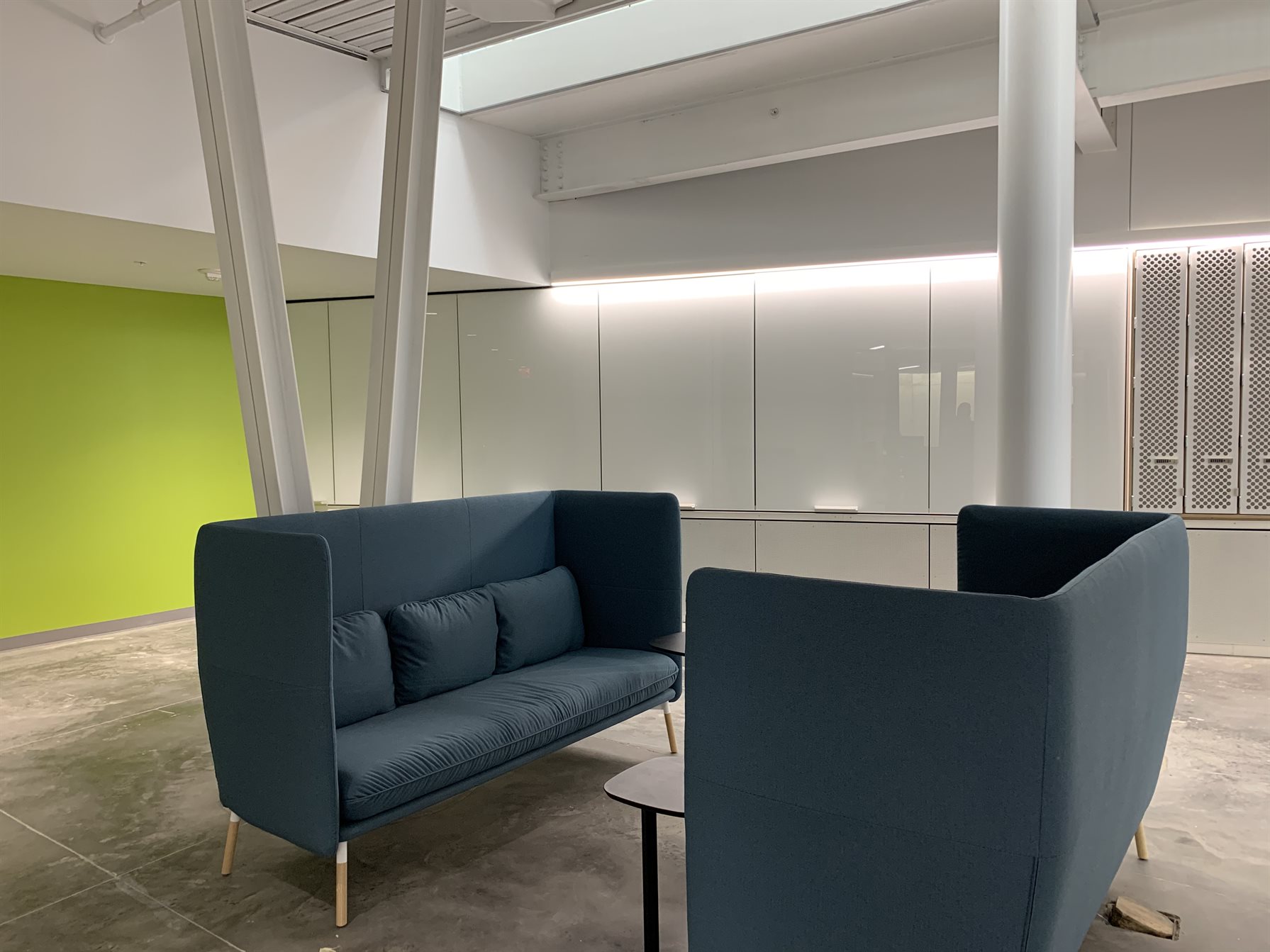 Lower Lobby
SCD's lower lobby, with its large step seating, ubiquitous magnetic whiteboards, and tucked-away couches, is an excellent spot for students and faculty to meet, study, and work.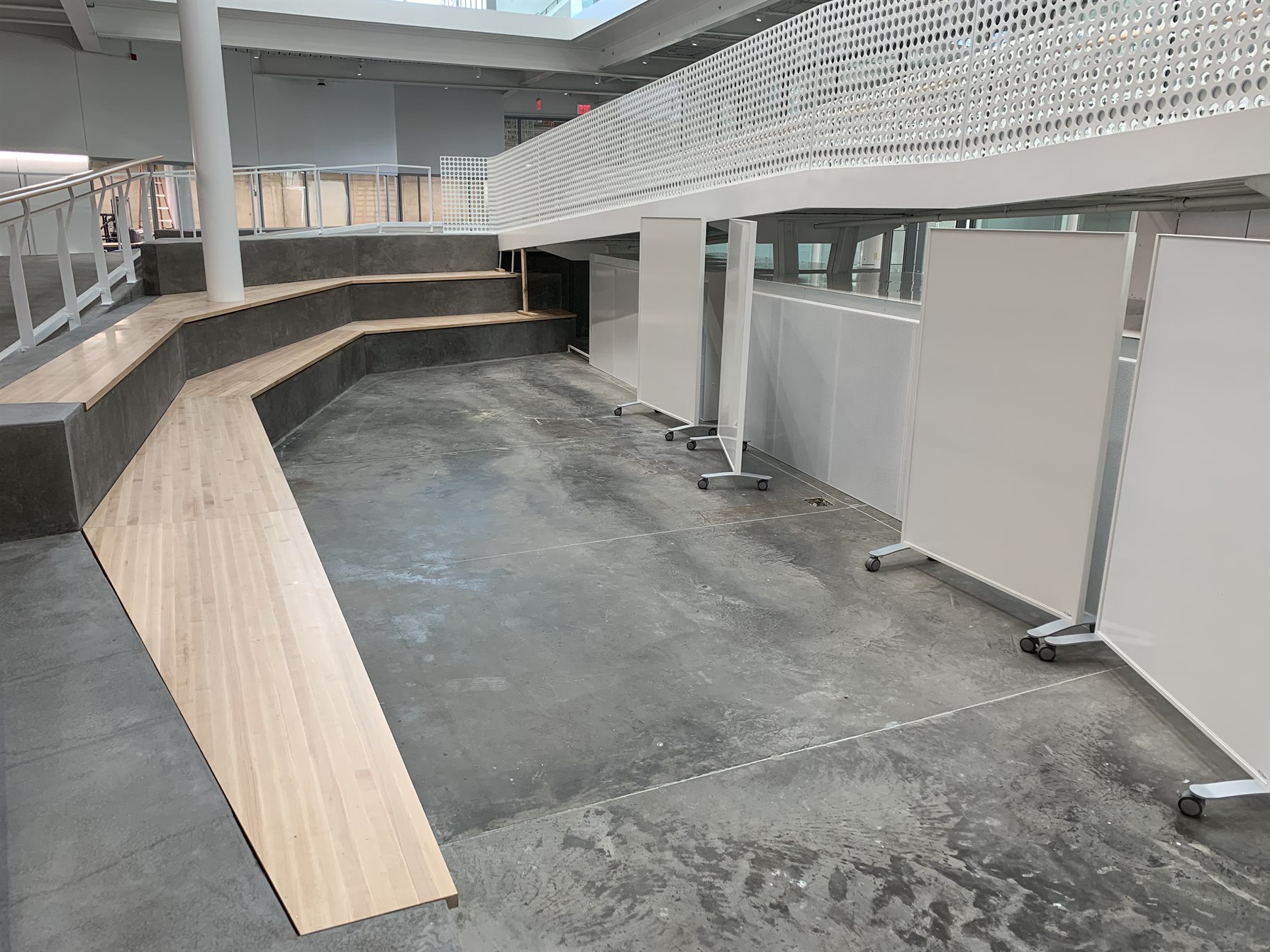 Amphitheater
Our lower level's amphitheater is ideal for small lectures, poetry readings, musical or dance performances, discussion groups, study sessions... and that's just a start.
Outdoors
The outdoor spaces at SCD are just as compelling as the indoor spaces. Birch, oak, and majestic pine trees, plus native flowers and grasses, line the sidewalks surrounding the building; these walkways link our three terraces (including the dazzling east terrace, pictured here) and a large bike parking area together, forming the building's perimeter. The large, grassy area further to the east remains open, inviting campus and community alike to have a picnic, study, fly a kite, or just look up at our big blue skies.