Our HCD Workshops serve as practical explorations of each of the five spaces of the Design Thinking process:
Understand, Synthesize, Ideate, Prototype, and Implement.
After an introduction of the day's topic, workshop participants will work in small groups to apply newly learned skills and concepts to real-world problems. These standalone, in-person events are perfect for groups who want to apply an aspect of human-centered design to a current project, as well as for those who want to explore human-centered design in an experiential way. Open to University of Illinois students, RSOs, groups, faculty, and staff, these events will take place at SCD. Request a Workshop for your group or team today!
HCD Workshop- Understand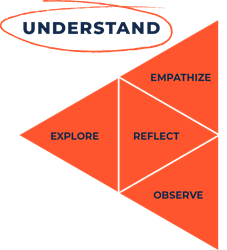 When practicing human-centered design, it's important to connect with the people you are designing for—their lives, their interests, their motivations, and their struggles. Learn how to take a human-centered approach to gathering information that will provide a compass when designing to solve complex problems.
Date: Thursday, 9/21 from 2-4p
HCD Workshop- Synthesize
Synthesis is the area of human-centered design that takes us from inspiration to ideas, and from stories to solutions. In addition to discovering practical pathways toward new perspectives, participants will learn to identify innovative opportunities by collaboratively making sense of others' stories and challenges.
Date: Thursday, 10/19 from 2-4p
HCD Workshop- Ideate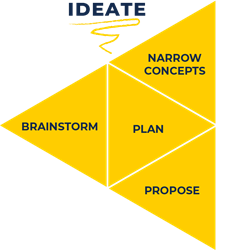 We all have good ideas from time to time, but how can we intentionally ideate to develop innovative solutions to complex problems? Learn about and practice collaborative, intentional ideation to generate ideas, communicate them to others, receive feedback, and keep iterating to generate groundbreaking solutions to real-world problems.
Thursday, 11/16 from 2-4p
HCD Workshop- Prototype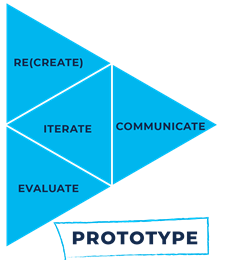 Physical Prototyping: This workshop will introduce participants to the process of prototyping in human-centered design. The two-hour session will cover topics such as low fidelity vs. high fidelity prototyping, prototyping methods, and the value of prototyping during your design process. Participants will have the opportunity to create their own lo-fi prototypes.
Thursday, 2/15 from 2-4p
Prototyping Experiences: Prototyping gives designers the opportunity to create, communicate, and evaluate the ideas that have been developed over the human-centered design process. In this workshop, learners will experiment with prototyping the intangible - experiences! Learn how prototyping can help your designed digital or in-person experiences to reach their goal, whether that's to delight, inform, or motivate.
Thursday, 3/21 from 2-4p
HCD Workshop- Implement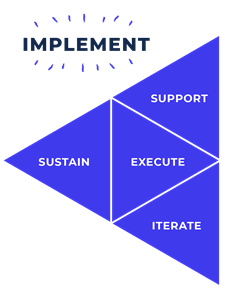 After multiple prototyping iterations, you arrive at a final design. It is time to implement your design in the market. Learn about developing implementation plans, ways to sustain and evolve your design, and tools to execute and scale your design.
Date: Thursday, 4/21 from 2-4p
* For more information, contact Sidney Sprunger, SCD's Learning Programs Coordinator, sidneys4@illinois.edu