The Shop: Tools & Materials
And to ensure you can do it quickly, we train you on how to use just the tools you need AT THE TIME.
There is NO COST when you're first learning - access and training are free to everyone on campus, to jump-start your design and prototyping projects.
We equip you with knowledge for exactly what you need, when you need it. Then, you can add to your expertise on the tools as you need them.
The Shop at SCD is a combination technical and creative workspace where any active student, staff, or faculty can work on their projects, models, prototypes, and large prints. It is fully equipped to handle the prototyping and promotional phases of nearly any project. We offer training and access to things like:
Laser cutters
Water jet cutter
CNC routers
Woodworking tools
Large format printing
3D printers
Cameras
A media studio
Our shop team doesn't do project work for guests,
we provide training, creative problem-solving help, and will learn side-by-side with a guest if they bring us a new challenge.
And if we aren't able to help a guest accomplish their goals here at SCD, we'll do our best to point them to other resources on campus or in the community that may be better equipped to help.
Calling ALL Makers!
Whether you're a seasoned fabricator, a novice wanting to get your hands dirty in a safe and welcoming environment, or somewhere in between, the labs at SCD have the tools, equipment, and training required to bring your designs to life.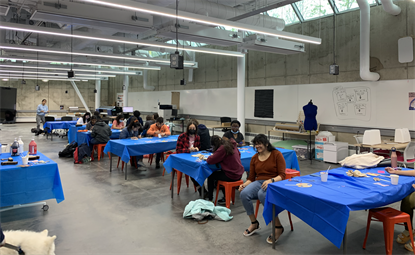 EQUIPMENT IN THE MAKERSPACE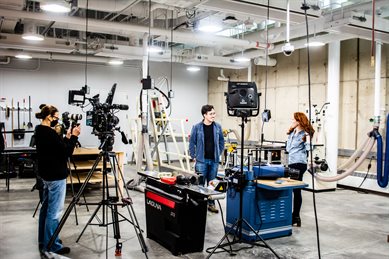 TOOLS IN THE PRODUCTION SHOP