Enjoy the latest SCD newsletter below - if you want the next one delivered right to your inbox you can sign up here!

FALLING FOR AUTUMN

September 2022

The semester is in full swing once again, and SCD is back to bustling, with students typing feverishly on laptops in the Gallery, getting crafty in the Shop, and embarking on new endeavors of every kind. Before we know it, a bounty of beautiful Midwestern foliage will be blazing all the colors of the season through our windows, but before we get ahead of ourselves, we want to catch you up on SCD's most recent happenings.
---
THE SHOP & MEDIA STUDIO ARE OPEN FOR FALL
Fall '22 Open Shop hours: Tuesday-Sunday from 4p-10p, Closed on Mondays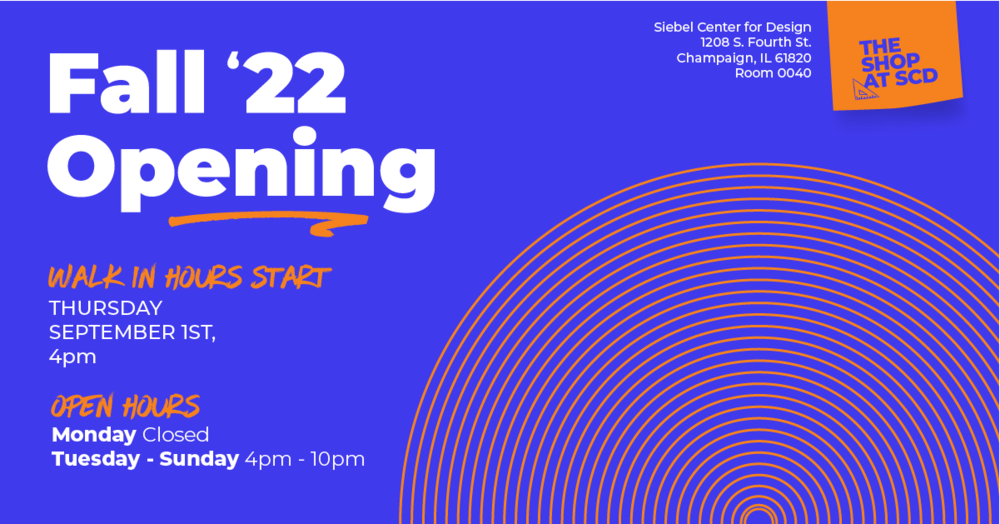 SHOP TALK
After a summer hiatus, the Shop at SCD has reopened its doors to the UIUC community. Michael Dalton, Lab Operations Specialist, gives us the inside scoop on the Shop, what we've been up to this Summer, and what to expect this Fall:
What is "the Shop" at SCD?
The Shop at SCD is a combination technical and creative workspace where any active student, staff, or faculty can work on their projects, models, prototypes, and large prints. The shop is fully equipped to handle the prototyping and promotional phases of nearly any project. We offer training and access to things like the laser cutters, water jet cutter, CNC machine, woodworking tools, large format printer, 3D printers, cameras, media studio, and much more. Our shop team doesn't do any project work for guests but we provide training, creative problem solving help, and will learn side-by-side with a guest if they bring us a new challenge. If we aren't able to help a guest accomplish their goals here at SCD, we'll do our best to point them to other resources on campus or in the community that may be better equipped to help.
Who can use the Shop?
Anyone on campus; we are trying to be incredibly accessible, attract guests and staff that are both diverse academically and personally. We want every single guest that walks through the door to feel welcome to explore new things, ask questions, and be comfortable to share their skills and knowledge. At SCD we want to see creativity and new ideas come from our guests through the access to these resources. To facilitate this we have dedicated student workers on The Shop Team who do an amazing job helping guests during our open hours six nights a week.
What kinds of things should we expect to see this Fall?
This fall is our second semester open so we've got a little more experience under our belts and we've updated our policies to be more efficient and improve the guest experience. Also, we aim to cater to a larger group of guests than we did before, so we have more staff members on board to help each guest better. Another major change to make our operation sustainable is we will be charging for materials consumed on credit cards, since we have to charge for some things we decided to go ahead and make things more convenient for guests so we will keep a stock of some common materials for guests to buy, like super glue, acrylic sheets, and some plywoods. We're hoping having these items for sale will save a number of guests time on the bus this semester.
What have you been working on this Summer, and what are you looking forward to this Fall?
Over the summer we have been supporting the work of a couple Molecule Maker Lab projects, a research group seeking to desalinate water using laser cut materials, and hosted some WYSE camp activities in The Shop. Now I'm getting prepared to onboard new and returning team members of The Shop Team for the fall semester. After this busy Summer I'm looking forward to returning to my work related to Deke Weaver's future performance art production that's part of Deke's Unreliable Bestiary series, along with our Lab and Equipment Operations Manager, Neil Pearse.
Come by to visit Michael and our amazing team in the Shop to learn more!
Fall '22 Walk-In hours: Tuesday-Sunday from 4p-10p, Closed on Mondays
---

SCD'S FALL 2022 LEARNERS WORKSHOPS
SCD's Lunchtime Learner Workshops engage learners in activities and practices associated with the six mindsets around human-centered design. Sessions this Fall will focus on the Human-Centered, Collaborative, and Creative mindsets. These are open to University of Illinois students, faculty, and staff interested in learning more about human-centered design. Attend in-person at SCD or via Zoom!
Understanding Oneself and Others, Thursday, 9/15/22, 12:30p-1:30p
Developing Collaborative Connections, Thursday, 10/13/22, 12:30p-1:30p
Building Creative Confidence, Thursday, 11/10/22, 12:30p-1:30p
---
UPCOMING EVENTS WITH SCD
Illinois UX Career Fair. Come to the first career fair on campus focused on UX roles. Companies are looking to hire UX Designers, UX Researchers and UX Developers. Come meet recruiters from Accenture, Epic, Sandia Labs and others to learn about UX internships and full time positions
Friday, 9/9/22, 2p-5p, at the Illini Union
Register here on Handshake
SCD is Co-Hosting a Visiting Artist Talk with John Gero on Your Brain in Design: The New Field of Design Neurocognition. Recent advances in non-invasive brain measurements has made it possible to begin to answer the question: What happens in your brain when you design? This talk will present results of studying the brains of designers from architecture, engineering, and industrial design while they design.
Thursday, 9/15/22, 5:30p, at SCD Classroom 1000
---
Thank you all for your continued interest and support. We'll be back with another edition of The Readout in October!
- the team at SCD
Newsletter Archive
Read past dispatches from the SCD Newsletter: