Enjoy the latest SCD newsletter below - if you want the next one delivered right to your inbox you can sign up here!

SWEET SUMMERTIME
June 2022

The days are getting longer. The nights are getting warmer. Final grades are in, caps and gowns have (hopefully) been returned, and newly minted grads are moving onward and upward, making room for the next crop of fresh faces. Let's not get ahead of ourselves, though. June has arrived, and around here, that means it's time to slow things down…but only a little.
---
DESIGN FOR ALL
Back in February, SCD Fellow Miriam Salah created and facilitated a workshop for low-vision undergraduate students hailing from her native Egypt. Assisted by SCD Intern Kanika Tibrewal, Salah spoke on the tenets of human-centered design and guided participants in problem-solving activities. One group focused on the difficulties experienced by low-vision pedestrians; the other considered the limitations of smartphone graphics for low-vision users. "We talk a lot about co-creation, but maybe we don't use it enough," Salah said. "We should start thinking of design-thinking tools…as being accessible to anybody." The students seemed to leave the experience with positive takeaways, too. "I loved how interactive and hands-on it was," one student said.
---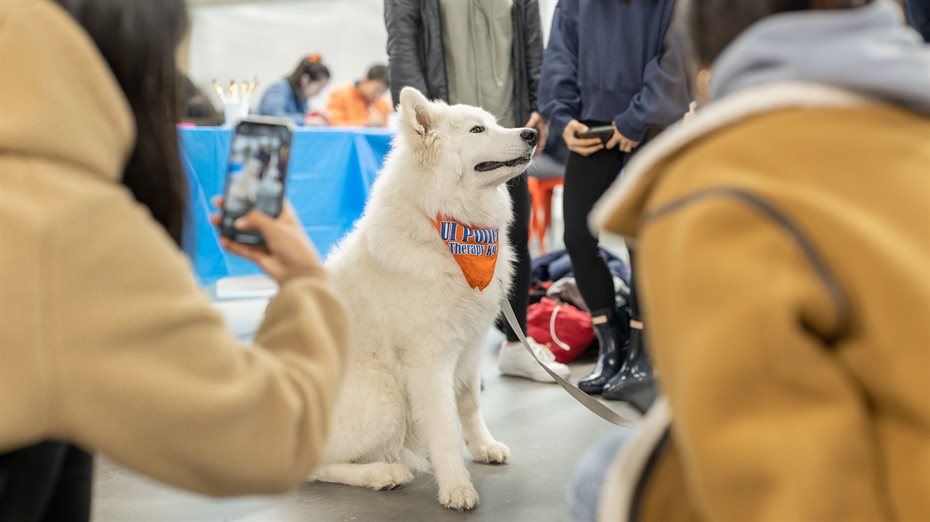 HIT REFRESH WAS...A HIT!
Our Hit Refresh event, held on May 5, was a decided success in spite of some not-so-great weather. Attendees practiced yoga with instructor Kristina Reese, visited with the therapy dogs of UIPD, got crafty in the Shop, and enjoyed games, snacks, and SCD swag.
---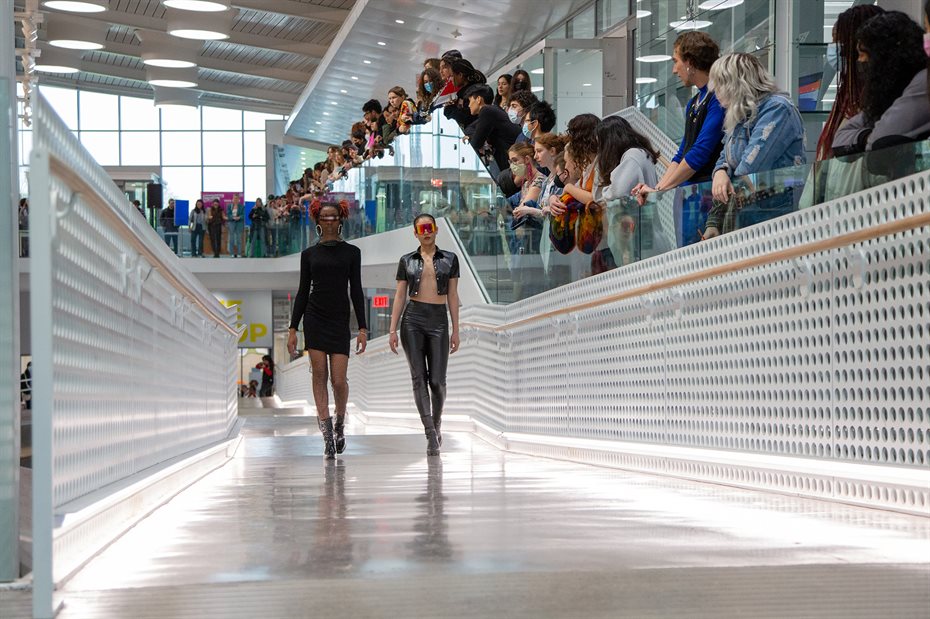 STRIKE A POSE (SUSTAINABLY)
Last month, SCD played host to two back-to-back fashion events. The first-ever Circular Fashion Expo, on May 6, centered on sustainable design and included a clothing swap, a sewing workshop, and runway looks. Local vendors sold sustainable beauty products, clothing, and accessories, and a keynote address was given by zero-waste activist Alexa Smith and fashion futurist Josh Jay James.
---
Re-Fashioned, a fashion show featuring the work of UIUC School of Art & Design students, took place on May 7. The runway showcased ensembles crafted entirely from reused and recycled materials.
---
ILLIAAC @ SCD
UIUC's Academic Advising Committee (IlliAAC) convened at SCD for their annual conference on May 18. Led by SCD Fellows Ted Faust and Miriam Salah, and SCD Scholars Mikaela Frechette and Carrie L. James, attendees participated in a design-thinking bootcamp tailored to their concerns as advisors. "We worked through the steps of design thinking…[to solve] real problems on campus," one participant said.
---
ALSO OF NOTE:
SCD's Shop is on summer vacation. The team is excited to reopen its doors to the UIUC community at the start of the fall semester.
Register for a class with SCD. There's still time to sign up for one of our fall 2022 courses, which include Introduction to Social Design, Introduction to Design Thinking, and Design for Social Impact. Have questions? Email us!
Check out the Design Illinois newsletter! Stay in the know about design-related events, jobs in design, and other opportunities by subscribing to this weekly newsletter. Want to read it first? Here's a recent edition.
---
Whether you're in Champaign-Urbana or elsewhere, we hope your summer is off to a great start. As always, we appreciate your interest and your support—thanks!

We'll be back with a new edition of The Readout in July.
- The team at SCD
Newsletter Archive
Read past dispatches from the SCD Newsletter: